Would you like the ease of moving a powered system?

Would you like to take advantage of the latest technology in monitoring systems and safety options?
The WIRED Powered Mobile Storage System lets you Harness the Latest Technology to Monitor and Operate Your Storage Space with Montel's Next-Generation, High-Density Powered Mobile Shelving System
Bring your shelving into the 21st century with WIRED. This high-density electrical movable storage system incorporates innovative technology to monitor, protect and operate your powered shelving. At the same time, it also gives you all the remarkable advantages of Montel's signature Mobilex® carriage and can be combined with various shelving products.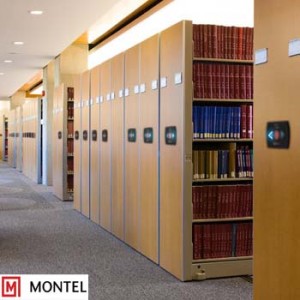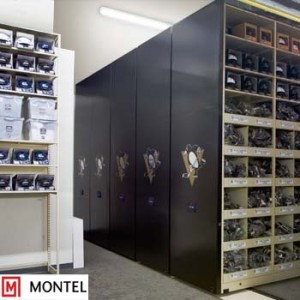 WIRED's next-generation components include an infrared monitoring function that detects people and objects in the aisles. If the infrared beam is interrupted, the system alerts you to the fact that there is someone or something in the aisle and prevents movement until the area is clear. It's invaluable to users for both safety and security purposes.
Another key element is PowerTrack, which embeds wiring within the high-density electrical mobile system's floor track. This confers numerous benefits: it conserves space, eliminates obstructions, reduces maintenance and so forth.
Another innovative technological component is WIRED's user-friendly eMC2 control keypad. This enables you to operate and program your electrical movable shelving system at the touch of a button—there's no need for a computer or software. For even greater user-friendliness, the system is also programmed for smooth, gentle operation during start-up, movement and braking, so you don't have to worry about sudden, surprising stops and starts.
Optional security features allow you to set WIRED to automatically close/lock or open/unlock at specific times, restrict access to the entire powered mobile shelving system or to specific aisles, link the system to the building's fire or security alarm, and much more. These features will continue to function even during a power failure, thanks to the automatic back-up system.
If you want to harness powerful technology to upgrade your high-density powered movable shelving, get WIRED—a cutting-edge solution that's ahead of the pack.
If you'd like help exploring and understanding your options, Contact SmartSpace GTA, for a free consultation.