Would you like to prioritize safety while still boosting your storage capacity? 
SafeAisle Powered Mobile Storage System is Montel's High-Density Powered Mobile System Featuring LED Guard Technology™. SafeAisle is the number-one option when safety is your number-one concern.
With high-density powered mobile storage systems, getting the most out of your space is a key consideration—but guaranteeing safety is also a must. SafeAisle will put your mind at ease on both counts. Its LED Guard Technology™ and other measures are aimed at providing the utmost in storage security.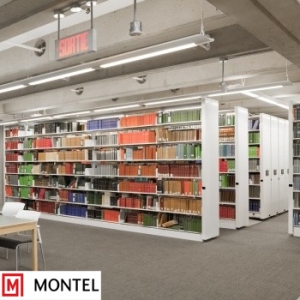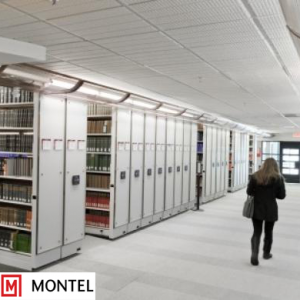 Here's how it works: SafeAisle is equipped with detection cameras that monitor the entire floor surface of an open aisle, unlike many other systems, which overlook certain areas. This 100% coverage ensures there are no missed corners. Whenever a person or an object—no matter how big or small—is in the aisle, built-in safeguards automatically prevent the powered mobile storage system from being moved. This cuts down on the risk of personal injury or property damage. Please watch the SafeAisle video to more clearly understand how it works.
While the revolutionary LED Guard Technology raises the bar for high-density powered mobile storage system safety, SafeAisle also gives you the benefits of Montel's Mobilex System. You benefit from a much more intelligent use of your storage area than you can get from regular filing and stationary shelving systems. Additionally the ePulse Remote Monitoring and Configuration System video explains how you're able to increase productivity, security, ease of mind and ease of use.
Montel's products are industry benchmarks in this area. Our track record proves it, comparing favourably to other manufacturers. We've achieved this because we don't believe in cutting corners when it comes to safety. We're sure you don't either—that's why SafeAisle is the high-density powered mobile storage system for you if you want more capacity without compromising on the safety of users and stored items.
If you'd like help exploring and understanding your options, Contact SmartSpace GTA, for a free consultation.