Would you like to make better use of your warehouse space, and find the most cost effective way to configure your floorspace, using industrial compact shelving?
RACK&ROLL 16 offers 16,000 lbs (7,257 kg) of capacity per double rack section, with a maximum carriage length of 45 feet (13.7 meters).
If your warehouse storage requires a greater weight capacity, check out our SAFERAK 32 or SAFERAK 60
RACK&ROLL 16 is a mechanical mobile racking system that's designed to enhance efficiency and productivity by optimizing your storage space while helping you save time and lower costs.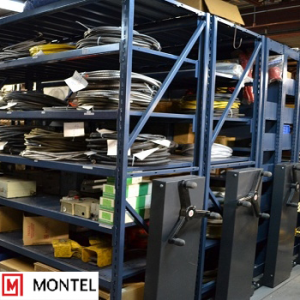 RACK&ROLL 16 has standard and optional safety features that ensure compliance with the most stringent regulations, along with a large selection of possible accessories. Operation is simple and user-friendly.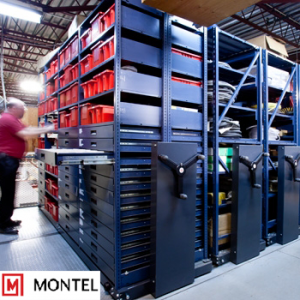 RACK&ROLL 16 is also eco-friendly, since it contributes to a more sustainable workspace by reducing your warehousing's energy consumption and environmental impact.
In the past, many warehouses have used a fixed-aisle method; however, this creates a great deal of wasted space that might require you to buy, build or rent additional space. RACK&ROLL 16's helps you recapture this space and prevents the need for these costly measures. Developed specifically for warehouses, RACK&ROLL 16 allows you to increase your storage capacity or create more room for production and other activities by transferring your racking to heavy-duty industrial mobile carriages. This high-capacity, high-performance solution can free up over 50% of your existing storage area.
Is RACK&ROLL 16 worth the investment? Yes. With RACK&ROLL 16, there's a rapid return on your investment. The mobile racking system enables you to lower production costs, streamline workflow and improve inventory management by consolidating the organization of your materials and reconfiguring your floor space. What's more, it can be customized to suit the needs of your company and your industry.
The bottom line is that with RACK&ROLL 16, you can be confident you are making the most of your industrial warehouse storage. This movable, compact mobile racking solution offers far greater efficiency and productivity than conventional storage systems.
If you'd like help exploring and understanding your options, Contact SmartSpace GTA, for a free consultation.