Do you have space limitations, and you're looking for a compact, high-density movable shelving system for efficient filing storage?

Would you like to be able to the move the system laterally to reach what you need, instead of creating an aisle?

Would you like to be able to relocate your system easily?
With the Quadral Lateral Movable Storage System, you can solve your problem of limited filing and storage space.
Proving that big is not necessarily best, Quadral is a compact, high-density movable shelving system that leverages your available space to make your filing storage as efficient as possible. It's an excellent alternative when space limitations prevent you from using one of Montel's larger mobile systems.
Use Quadral when you need to store files or other items in a confined room, next to a wall and so on. The light, handle-free carriage base supports Montel's versatile SmartShelf shelving and moves laterally, allowing you to make full use of your storage space without wasting a square inch. For high-density storage of relatively small and light items in tight quarters, such as files, boxes, medications and parts, it's vastly superior to conventional filing and storage systems.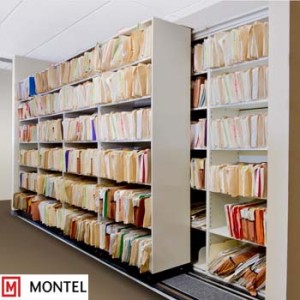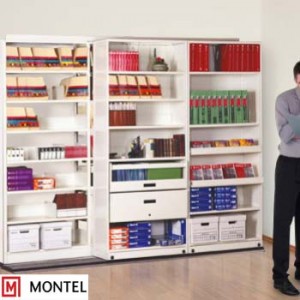 Retrieving your files and other materials is simple. Unlike other mobile systems, you do not have to open up an aisle to access them—just slide the system laterally to reach what you need. If you wish, you can restrict access by covering the shelves with lockable regular or folding doors, transforming the unit into a secure cabinet. Lockable drawers are also available.
The Quadral has plenty more to offer. Since it is extremely straightforward to install, it can be set up wherever you like, and moved and reconfigured as your circumstances change. On top of that, it can be upgraded and expanded. Add a second mobile row in front or modular sections on each side as your filing and storage needs grow.
With this compact, high-density lateral mobile shelving solution, you no longer have to worry about how to do more with less—Quadral takes care of that for you.
If you'd like help exploring and understanding your options, Contact SmartSpace GTA, for a free consultation.