Would you like to store files, CDs, DVDs or other materials?

Are you a library holding many books?
Aetnastak Cantilever shelving can stand alone, or be joined to other shelves.  It can also be attached to a Mechanical Assist or Powered Mobile System, so you can get more out of your space.  This shelving can be used single-sided or double-sided, back-to-back.
When it comes to storage, Aetnastak is the reference. Libraries of all kinds have trusted their collections to this exceptional compact cantilever shelving system for over 50 years. Why? Because it can handle books from A to Z, whether in a public, corporate, medical or university library. And since libraries these days are about much more than books, it's also perfectly capable of storing files, CDs, DVDs and other materials.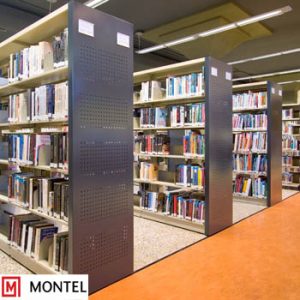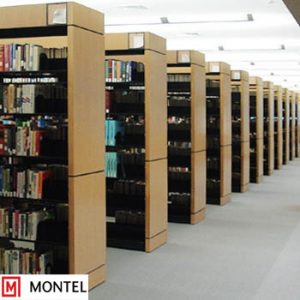 The compact Aetnastak cantilever library shelving system can be reconfigured time and time again to perfectly suit your preferences and ever changing needs.
It's no trouble at all to lengthen, shorten, relocate or attach existing units—all without the complications of added parts. Transform shelves from single-faced to double-faced (or vice versa) as the situation demands by adding or removing shelves on one side. While Aetnastak itself is stationary shelving, it can be mounted on one of Montel's manual, mechanical or electrical mobile systems to get more out of your storage space.
Whatever configuration you use, you can count on Aetnastak cantilever library shelving for sturdy support. The rock-solid welded frames are built for lasting strength and rigidity. The shelves surpass industry standards, giving you all the capacity you could ask for at 50 lbs per linear foot or 244 kg per square meter.
Aetnastak is trusted internationally by renowned institutions, which employ the system for vital tasks such as storing rare, fragile and valuable books. You too can trust Aetnastak® to give your books—big or small, light or heavy—all the support they need, both today and tomorrow.